Government censorship, overly zealous workplace browsing filters and website geo-blocking are just some of the reasons why web proxy services are becoming increasingly useful. Unfortunately many of the free services available online are slow, insecure and probably already blocked by your internet overlords.
Instead of battling with popups and worrying whether the proxy you're using is trying to steal your identity, why not host your own proxy? This quick little guide will show you how to setup Glype on a hosting account and use it to circumvent pesky internet filters.

What You Need
Web hosting
Almost any low-cost web hosting can be used to host a web proxy. If you're using shared hosting, make sure the provider doesn't expressly forbid using their service for a proxy. For the purpose of this tutorial, we will be using a cPanel Linux server provided by The Web Atom, however many other hosting providers will do.
Domain name
You don't technically need a domain name, but for the sake of simplicity I'm going to assume you have one and intend to install the proxy on a subdomain.
Proxy software
We'll be using a proxy script called Glype to power our web proxy. It's completely free for personal use.
Glype® is a web-based proxy script written in PHP which focuses on features, functionality, and ease of use. Webmasters use Glype to quickly and easily set up their own proxy sites. Glype helps users to defeat Internet censorship and be anonymous while web browsing. There have been over 945,000 downloads of Glype since 2007. Thousands of web-based proxy websites are powered by Glype.
Step 1 – Setup a subdomain
The first thing we need to do is create a subdomain that we will install Glype onto. The software does not allow you to use "Glype" in the website address, so I recommend using proxy.yourdomain.com. If you want to avoid detection when using your proxy, it may be wise to use a completely inconspicuous domain name that doesn't contain the word 'proxy' at all.
If you're using cPanel, select Subdomains from the Domains section. Fill out the details like you see below and press "Create."


Step 2 – Upload Glype
After downloading Glype onto your computer, extract the contents and upload the files to the folder you created in the previous step. Don't transfer the entire glype-1.4.x folder; but instead just the files and subfolders inside.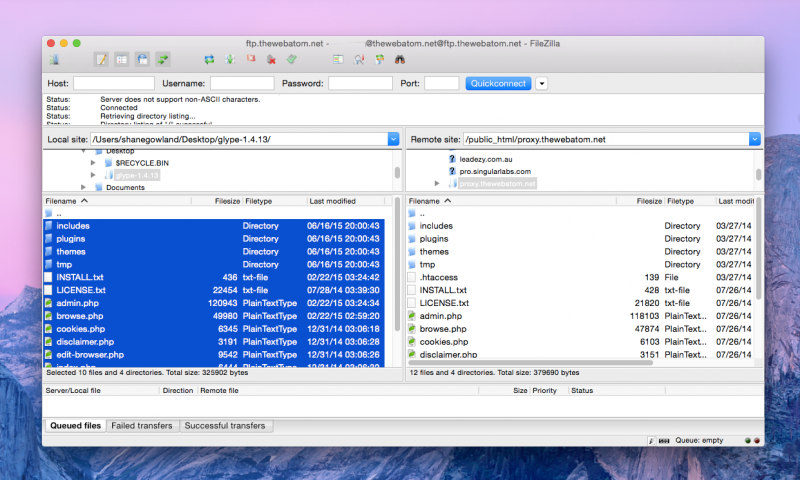 You can either use the built-in file uploader in your web hosting control panel, or an FTP (File Transfer Protocol) application such as FileZilla. GoDaddy has a good tutorial on using FTP.
Step 3 – Configure Glype
Once all of Glype's files have been successfully uploaded, your proxy is basically ready to go. To get the maximum compatibility, you can tweak Glype's settings by going to the admin page at proxy.yourdomain.com/admin.php.

Step 4 – Secure your proxy
Proxy services can use a lot of server resources and chew through bandwidth. It's also possible for other people to use your proxy to access illegal content, for which you could be liable. In order to prevent abuse, it's advisable to restrict access to your proxy to only you or a handful of trusted others. cPanel allows you to password protect a directory through the security menu.

Keep in mind that the more people there are using your proxy; the more likely it is that your school, workplace, or government will block it.
That's it!
Now you have a functioning web proxy for your own personal use.